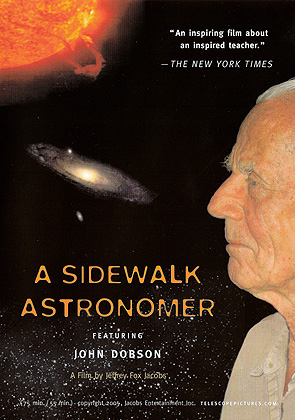 PRICING:
United States: $ 34.95
(includes $5.00 S+H)
---
New York State: $37.57
(includes $5.00 S+H + $2.62 NYS Sales Tax)
---
International: $36.95
(includes $7.00 S+H)
*** IMPORTANT***
Mail Order Instructions for Int'l Customers
Before sending this form, please email us to request currency conversion quote for checks in your national currency:jacobsfilm@gmail.com

MAILORDER FORM & INSTRUCTIONS
1. Print this page and fill it out.
Which format would you like to receive?
Circle one: DVD or VHS/NTSC
---
Where will we be shipping to?
Circle one: United States or International
---
If in the US, are you in New York State?
Circle one: Yes or No
---
Name:
Street Address:
City:
State/Province:
Zip/Postal Code:
Country:
In case there are problems with your order:
email:
---
2. Send this page along with check or money order (pricing at left), to:
A Sidewalk Astronomer
c/o Jacobs Entertainment Inc.
26 Allendale Drive
Rye, NY 10580
USA
---
A portion of the purchase price will be used for astronomy education initiatives.
Please allow 2 to 3 weeks for US deliveries and 3 to 4 weeks for International deliveries.